'Engine fire' forces Monarch plane back to Birmingham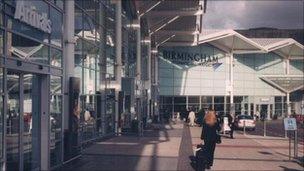 A Monarch Airlines plane carrying more than 200 passengers was forced back to Birmingham Airport after a suspected engine fire shortly after take-off.
The 1845 BST flight ZB932 to Tenerife landed back in Birmingham at 1855 BST on Tuesday.
Eyewitnesses said they saw flames coming from one of the plane's engines, but Monarch said its engineers had found no indications of a fire on the Airbus A321.
All 213 passengers disembarked safely.
Passenger Clive Beckett told BBC News that his original flight was put back as passengers were told the plane had technical problems and they would be boarding a plane from Greece instead.
As the plane started to climb into the air he said passengers heard a "huge bang" followed by another one and his wife saw a "sheet of flames" come out of an engine.
He said: "It all went quiet then the pilot said, 'This is your captain speaking. This is Code Cobra, Code Cobra' and the cabin crew reacted.
"Then the captain said, 'We have lost an engine.'.
"The plane was shaking quite badly. It tried to level off and he said, 'We're returning straight away.'
"People were crying. We thought we were going to die.
"We thought the plane was just going to come down. We were over houses."
He said people were "deeply shocked" by the time they had returned to the departure lounge and were surprised to find that paramedics were not immediately waiting for them.
Eyewitness Emily Clarkson contacted BBC News to say she saw a "big burst of fire" from the left side of the aeroplane as it took off.
She said it happened again after a few moments and black smoke could be seen which "appeared to shake the plane a little bit".
Another eyewitness Gordon Browne - who was watching a rugby match at Birmingham Exiles RFC in Catherine-De-Barnes Lane, Solihull, when the plane flew over - reported hearing "a loud bang".
"We all looked up into the sky and saw a cloud of smoke coming from the rear of the plane," he added.
"Then we heard another bang and the engine caught fire.
"We shouted to get the kids away from the pitch."
Monarch said: "Shortly after take-off a problem with the left-hand engine forced its shutdown, and as a precautionary measure the flight diverted back to Birmingham.
"The aircraft landed safely at 18.55 and all passengers disembarked as normal."
The passengers were initially asked to wait in the terminal building while the airline arranged alternative transport but were later put up in a hotel overnight.
The Civil Aviation Authority, (CAA) which regulates aviation in the UK, said an engine failing would not have been a serious safety risk to passengers or crew on board.
It said: "All aeroplanes are designed to work if one engine fails. It was a two-engine plane but it can operate quite comfortably with one engine.
"Engine failure is not common among UK aircraft, which have a very good safety record. It is not a safety critical incident and all pilots are trained to deal with engine failure in their flight simulator training."
Related Internet Links
The BBC is not responsible for the content of external sites.