Cockroach find shuts Bullring Indoor Market for days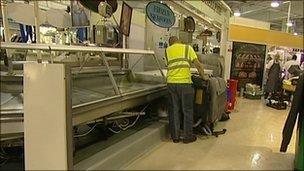 A market closed for deep cleaning after signs of mouse and cockroach activity were found is to reopen on Friday.
Action is being taken at Birmingham's Bullring Indoor Market by environmental health and pest control officers.
Head of markets Steve Grogan said from Friday exotic fruit and vegetables must be put into plastic containers before being allowed into the building itself.
The Bullring Outdoor Market, Rag Market and Wholesale Market are all unaffected and will remain open.
Mr Grogan said "in common with any other large scale food operation" dealing with mouse activity was "a constant issue" for the site, which was closed on Tuesday.
In a statement released by the city council, he said: "Cockroaches are an entirely different matter.
"Upon finding evidence of their presence for the first time ever on Monday, we took the immediate decision to act in order to protect both the public and hygiene standards at the market.
"The problem appears to have arisen through exotic fruit and vegetables being stored and transported within cardboard boxes.
"We have therefore implemented new procedures."
Related Internet Links
The BBC is not responsible for the content of external sites.