Birmingham children's care staff face cuts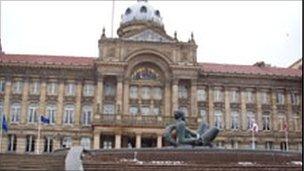 A total of 36 frontline staff dealing with children at Birmingham City Council may lose their jobs.
A 90-day consultation period is under way over the jobs, the council said.
The workers are responsible for taking children who are separated from their parents on home visits to see their families.
Last month the council was told it must improve its protection of vulnerable children after a Serious Case Review into the death of Khyra Ishaq.
The death of the seven-year-old who starved to death could have been prevented, the review found.
The report highlighted a catalogue of missed opportunities by the council's children's services and other professional agencies.
The city council said in a statement that the 36 jobs were under review.
"As part of the legal consultation process, a section 188 notice was issued," a spokesman said.
"This marks the beginning of the formal consultation process as required by law. No final decisions have yet been taken."
Roger Jenkins, regional organiser at GMB union, said the decision to cut the jobs did "not make any sense" and would pile on pressure on already "overworked" social workers.
"Apart from providing a service, what these people do takes an awful lot of pressure off social workers," he said.
Related Internet Links
The BBC is not responsible for the content of external sites.