West Midlands Police given 'sensible underwear' advice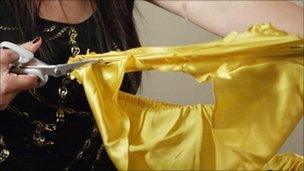 West Midlands Police officers believe they have been given a bum deal by being asked to wear sensible underwear.
They were advised to choose pants of an "appropriate colour" on duty which were "inconspicuous" under uniforms.
Some staff have described the suggestions, which appeared on the police "message of the day" section on the force intranet, as "nannying".
The force said there was no new policy on underwear but officers had to take a "commonsense approach".
The brief was issued to staff to ensure officers "present a professional appearance to the public," West Midlands Police said.
It includes other sartorial advice, such as the suggestion that baseball caps should only be worn by officers in certain units.
A police spokesman said: "There's no new force policy on underwear, but all officers and staff coming into contact with the public are asked to adopt a commonsense approach when choosing what underwear is worn so they remain smart."
Some officers criticised the move in the force magazine, Police Review, with one saying "we are not a scouting organisation".
Related Internet Links
The BBC is not responsible for the content of external sites.