Commemorative Pope shirt on sale for Birmingham visit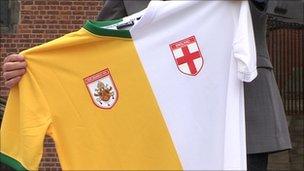 A commemorative football-style shirt has gone on sale to mark the Pope's visit to Birmingham next month.
One half is the England team colours and the other is "inspired" by the Vatican flag, bearing the emblem of the independent sovereign state.
Some of the money from each £18 sale will go towards the papal visit fund, the Catholic Church.
The cost to taxpayers of the visit could reach £12m - £4m higher than first thought, the government has said.
The Pope will use Cofton Park in Birmingham for the beatification of Cardinal John Henry Newman, who is buried nearby.
He is visiting the UK between 16 and 19 September, in what will be the first papal visit to the UK since that of John Paul II in 1982.
Mark Faulconbridge, director of Club and Country, which has helped to produce the shirts, said: "Birmingham and Aston Villa sell thousands of shirts every week to football fans and obviously lots of football fans will be going to see the Pope so to amalgamate an England-style football shirt with the Pope visit is just a bit different."
Last month, West Midlands Police reassured the public that the force would be able to meet the costs of the visit.
The trip will also cost the Catholic Church £7m.
Canon Pat Browne, dean of St Chad's Cathedral, said: "The producers tell me it will raise somewhere in the region of £50,000 for the papal visit fund.
"But whatever it raises, it's important it's sending the message out the Pope is coming to Birmingham and he will be part of people's lives here in Birmingham that particular day, the 19th of September."
Related Internet Links
The BBC is not responsible for the content of external sites.