Falconer's fear over £70k egg smuggler's prison term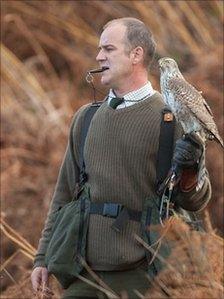 A bird breeder who helped to hatch rare falcon eggs taken off a smuggler at Birmingham Airport has said the 30-month prison sentence handed down for the offence is unlikely to stop others.
Jeffrey Lendrum, who has convictions for stealing eggs in Canada and Zimbabwe, tried to smuggle 14 eggs worth £70,000 to Dubai.
He pleaded guilty and was sentenced at Warwick Crown Court on Thursday.
Goshawk breeder Lee Featherstone said tougher penalties were needed.
Mr Featherstone, who has bred birds of prey for 15 years, said: "It really offends me when people like Lendrum are referred to as falconers.
"A falconer does everything he can to ensure a bird that belongs in the wild stays in the wild.
"That's all I did. His aim was the total opposite.
"This guy's been done for stealing eggs before and with the massive amounts of money involved, a few months is hardly going to stop him."
Mr Featherstone was called by police to help identify the eggs, which had been stolen from a nest in south Wales, after they arrested Lendrum at Birmingham International Airport on 3 May as he waited to board a flight.
Lendrum, 48, from York Close, Towcester, Northamptonshire, had placed the eggs in socks and strapped them to his chest to keep them warm, Warwick Crown Court heard.
He was reported to counter-terrorism police by a cleaner who became suspicious of his frequent trips to an airport shower room.
When the eggs were taken off him, police placed them on the back of their office computers to keep them warm.
Mr Featherstone established that 14 of the 15 eggs found on Lendrum were fertilized peregrine falcon eggs.
He said the 15th egg, a single unfertilised chicken egg, had probably been bought in a supermarket and painted pinkish brown.
He believes that may have been a decoy attempt, to break open in front of customs officers in case he was stopped.
The self-employed Birmingham electrician was asked by police to care for the eggs.
He said: "I came in my van and had no incubators to transport them in so I had to use the socks he had used and strap them to my chest too.
"It was a bit tricky driving with them, but luckily I only live about 10 minutes from the airport."
He slept on the sofa and turned the eggs over every hour for the next 15 days with the help of his family.
The UK Falconry Forum donated extra incubators and helped to transport the birds, 11 of which survived, to captive-bred adult falcons around the country that could foster and raise the chicks.
The birds have since been released into the wild at sites chosen by the Royal Society for the Protection of Birds, mainly near the Scottish border.
Mr Featherstone said: "I don't even know where they've gone, what matters to me is that they're free.
"People who want wild creatures as trophies disgust me."
Related Internet Links
The BBC is not responsible for the content of external sites.