Birmingham indoor market reopens after closure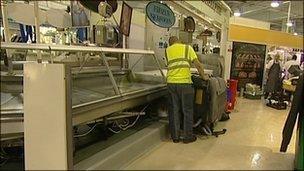 A market which was shut for deep cleaning following the discovery of signs of mice and cockroaches has opened for the first time in five days.
Action was taken by environmental health and pest control officers over Birmingham's Bullring Indoor Market.
City council environmental health teams approved it to reopen on Friday, but traders said they needed time to restock so it opened on Saturday.
The Bullring Outdoor Market, Rag Market and Wholesale Market were not affected.
In an earlier statement released by the city council about Bullring Indoor Market, head of markets Steve Grogan said a problem "appears to have arisen through exotic fruit and vegetables being stored and transported within cardboard boxes".
He subsequently said exotic fruit and vegetables must be put into plastic containers before being allowed into the building itself.
Speaking ahead of the reopening, he said: "We've got very high standards of hygiene and health and safety on this site.
"We have very regular and robust monitoring, pest control monitoring systems in place, but we've learnt a lesson from this.
"We're going to ensure that no packaging of any form, especially in cardboard boxes, goes into the market."
Related Internet Links
The BBC is not responsible for the content of external sites.