'Draconian' security for Pope's visit to Birmingham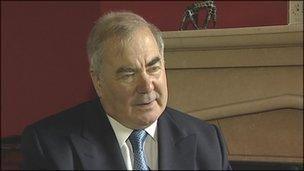 Security plans for the Pope's visit to the Midlands have been described as "draconian" by a spokesman for the Archdiocese of Birmingham.
The Pope will use Cofton Park in the city on 19 September for the beatification of Cardinal John Henry Newman, who is buried nearby.
The spokesman, Peter Jennings, said he had "never seen security like this".
The Cabinet Office said "a very good job is being done" in Birmingham towards organising the event.
Mr Jennings said: "I think the security's draconian. But I can't question the authorities on security.
"They're in charge. The government is in charge of the security and they have to make the decisions."
In a statement, the Cabinet Office said: "A very good job is being done in Birmingham towards organising the event with dozens of organisations involved.
"The government is working with local authorities and the police and has to balance security whilst working with the church to secure a good experience for pilgrims."
The Pope is visiting the UK between 16 and 19 September in what will be the first papal visit to the UK since that of John Paul II in 1982.
Related Internet Links
The BBC is not responsible for the content of external sites.