Large tree branch falls on driver in Kings Norton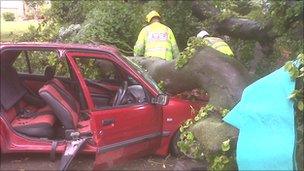 A man has escaped serious injury after a large tree fell on top of the car he was driving in Birmingham.
The branch, estimated to measure about 2ft (60cm) in diameter, landed on the car in Redditch Road in Kings Norton, Birmingham, on Monday, paramedics said.
The man, believed to be in his 70s, sustained neck pain and was suffering from the effects of shock.
Firefighters removed the side of the vehicle to release him and he was taken to hospital.
A West Midlands Ambulance Service spokeswoman said: "Crews arrived on scene to find a car which had been pinned underneath the tree.
"The tree was approximately 60ft tall. A branch, measuring 2ft in diameter, landed on the bonnet and windscreen of the car.
"Considering the size of the tree, it was remarkable that the man didn't suffer more serious or even fatal injuries."
Related Internet Links
The BBC is not responsible for the content of external sites.