Pope turnout 'hit by sex abuse scandal', claims Short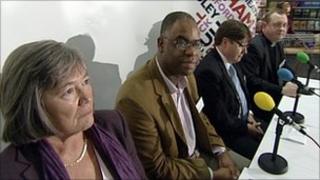 Former Birmingham MP Clare Short has claimed embarrassment about the child abuse scandals within the Roman Catholic Church could keep people away from Sunday's Mass.
Pope Benedict XVI will lead Mass in Cofton Park, Birmingham, where he will beatify Cardinal Newman as the culmination of his four-day UK state visit.
About 52,000 pilgrims are expected to attend the 65,000 capacity venue.
The Church has refused to confirm how many passes have been returned, but said the city's allocation was increased by 5,000 in August because of ticket returns from elsewhere in the UK.
In the past few weeks details have emerged about hundreds of children who were sexually abused by Catholic priests in Belgium, which comes after revelations, earlier this year, about hundreds of alleged child sex victims in Germany and Italy.
During a public debate about the Pope's UK visit, hosted by BBC WM, Ms Short said: "Sadly it comes at a time when the church is in so much trouble, it's confused and messed up with its teachers and with anything to do with sex.
"I think it has completely lost the plot.
'Not a protest'
"I know a lot of Catholics who aren't going or are just keeping quiet and hoping it goes well, but are a bit embarrassed."
Father Timothy Menezes, of St Thomas More Roman Catholic Church, Coventry, has been helping to organise the Mass and said logistics rather than embarrassment was likely to influence attendance.
"I don't think it's any kind of protest.
"I'm a bit fed up with all these sex abuse headlines. 'The Pope has landed amid a sex abuse scandal in the Catholic Church' is what they're saying, but there is no crisis.
"That would have been fair enough about 10 or 20 years ago maybe, but to say that now is to ignore all the safety measures and work we have done in this country around this subject."
He said a scrapped Labour government plan to vet anyone who looked after other people's children, including parents on the school run, had been adopted by the Roman Catholic Church.
"Every single person in our parish that works with children has been CRB checked," he said.
Father Menezes said the incidences of child sex abuse in the Roman Catholic Church was no higher than in the wider population.
"We put forward moral authority, that authority is undermined when people in authority fail, but it is not the teaching of the church to commit abuse.
"By the way it is reported you would think every single one of us was up to it," he added.
An NSPCC survey in 2000 into the extent of child abuse in the UK said less than 1% of the 2,869 people questioned said they were abused in childhood by people in a position of trust, like teachers, religious leader, carers or social workers.
'Most grateful'
The children's charity said child sex abuse was most commonly perpetrated by peers, such as boyfriends or girlfriends, siblings' friends, or fellow pupils.
Father Menezes said it was also unrealistic to expect Pope Benedict XVI's visit to be as popular as the first visit made by a Pope to the UK in 1982.
He said although pilgrim passes for Cofton Park were made available to Roman Catholic parishes across the country, it was natural to expect greater demand closer to the Mass, because of the difficulties of getting there.
When asked how many passes had been applied for, Peter Jennings, a spokesman for The Catholic Archdiocese of Birmingham said: "No, we are not saying that.
"What we are saying is that we expect about 52,000 pilgrims and about 5,000 other people including 2,100 members of the choir, media, VIP guests and other guests invited by the event organisers WRG."
He added: "We are most grateful to Birmingham City Council and West Midlands Police for making it possible for the Popemobile to be used along the Hagley Road in Edgbaston as this allows a large number of people to see the Holy Father Pope Benedict XVI close up."