Final Pope preparations under way in Birmingham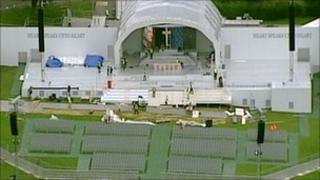 Final preparations are under way for the Pope's historic visit to Birmingham.
Pope Benedict XVI will lead Mass in Cofton Park where he will beatify Cardinal Newman as the culmination of his four-day UK state visit.
Sharon Rowe, Assistant Chief Constable of West Midlands Police, said the force had spent months preparing for one of its biggest security operations.
She said it hoped to make it a "successful and safe event".
About 52,000 pilgrims are expected to attend the 65,000 capacity venue at Cofton Park.
The Popemobile will travel from Cofton Park, near Longbridge, along Hagley Road, Edgbaston, to the Oratory, which was founded by Cardinal John Henry Newman.
Assistant Chief Constable Rowe suggested visitors should try to see the Pope along Hagley Road because the Mass at Cofton Park was a ticket-only event.
She added that traffic disruption was inevitable but police would try to re-open roads as quickly as possible.