Cuts protest at Tory conference in Birmingham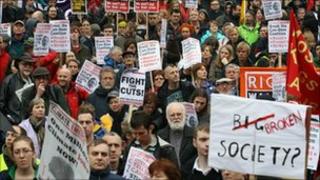 Thousands of people have protested in Birmingham against reduced public spending as the Conservative conference got under way in the city.
Speaking at the rally, Mark Serwotka, of the Public and Commercial Services Union, said strikes were "inevitable" to "turn the tide" against the cuts.
West Midlands Police estimated 5,000 to 7,000 people took part in the protest.
Ahead of the conference, Prime Minister David Cameron urged people to keep the cuts in perspective.
Mr Serwotka told those gathered in Birmingham city centre: "Strikes are inevitable.
'Fight back'
"We are stronger if we get together. Striking together will not just happen on its own.
"We need to plan it now. We need our union stewards meeting now in every town and every city and we've got to start planning."
A succession of speakers addressed those who gathered in the gloomy weather, including Labour MP John McDonnell.
He said: "We're coming with our demonstrations, our strikes, our civil disobedience and direct action.
"This is no time to sit on the sidelines, this is a time to fight back."
The protesters' messages, plastered across placards, included slogans such as: "Tell David Cameron: stuff your cuts, we won't pay"; "Stop the cuts, fight for every job"; and "Break the Con-Dem Coalition: resist, protest, strike."
They walked to chants of: "They say cut back, we say fight back"; "They say privatise, we say nationalise"; and "Tory scum out of Brum."
When the crowds got as close to the conference venue as they were allowed, they stopped in the road to make as loud a noise as possible.
The two-hour march passed through Lionel Street, Summer Row, Holiday Street, Gas Street and Broad Street.
Ahead of the gathering, some protesters had said they were frustrated at not being able to march nearer to the conference venue, the ICC.
"We feel that this is a violation of the right to freedom of speech and our rights to protest peacefully against the government," a spokesman said.
'Welcoming city'
In a statement, a spokesman for the Conservative party said: "Everybody has the right to peaceful protest.
"Birmingham is a welcoming city for all - regardless of their political views."
Supt Dave Sturman, commander for the policing of the Conservative Party conference, said: "We are very pleased with the way the march has gone this afternoon.
"The protesters were peaceful and the operation went largely to plan.
"At this stage there have been no arrests and we have received no reports of any criminal offences, such as damage, as a result of the event."
Ahead of the four-day Tory conference, which got under way on Sunday afternoon, Prime Minister David Cameron urged people to put public spending cuts "into perspective".
Chancellor George Osborne will outline the government's plans on 20 October.