Wolverhampton job seeker's banner bid to find work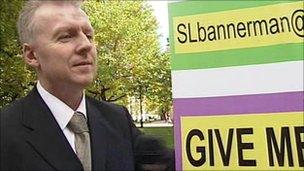 An unemployed man from Wolverhampton using a large banner to "sell himself" in order to find work says he has a "few good responses".
Steve Lindon was made redundant from Legal and General in February 2009 and visited Birmingham with a 6ft banner.
He said he hoped promoting himself on industrial estates, business parks and city centres and handing out business cards would get him a job.
The former administrator said he wanted to do something positive.
Under the colourful "Give me a job" slogan, the banner says: "All offers considered, available immediately".
Details of his qualifications are included along with an email address at the top.
After applying unsuccessfully for hundreds of openings, Mr Lindon, who lives with his partner and three children, said he hoped this approach would yield him a new job.
"You tend to get stereotyped, that you're lazy and you don't want to work, [that] all you do is lay about all day," he said.
"I'm just trying to do something positive to show that actually, not all unemployed people are like that and a lot of us do want to work."
He spent several hours on Colmore Row in Birmingham city centre on Thursday.
"I've had a few good responses today," he said.
"I gave out my details to some people, the public were very supportive as well and I also spoke to a recruitment agency so we'll see.
"Worst case scenario for me is, if the mortgage doesn't get paid then we could lose the house but I'm not alone in that, others are in a similar situation.
"What I'm doing is a good idea, if it works, but hopefully it'll bring me something."