Cities' asylum contract exit 'a disaster'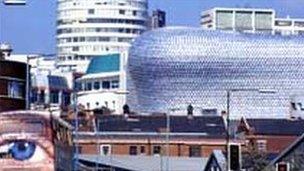 The news that Birmingham City Council is to stop accepting asylum seekers in the city from next summer is being described by one expert as a "disaster".
The largest local authority will withdraw from its contract with the UK Border Agency (UKBA) next June, ending a five-year agreement.
Wolverhampton confirmed on Monday that it too will terminate its UKBA contract at the same time.
Both authorities claim finding a home for the sharp rise in the number of homeless people should take priority over housing asylum seekers.
The decision leaves question marks over what will happen next, with it being likely that private landlords will bear the brunt of finding them homes.
This, said Jenny Phillimore, from the Institute of Applied Social Studies at Birmingham University, could put more stress on local services if asylum seekers moved to areas with less support services.
She said: "It's not clear what will happen next.
"They (asylum seekers) were housed in areas where they fit in and the right support is available which is less likely with private landlords as they could be put anywhere.
"They could still stay in the West Midlands or they could be moved anywhere.
"The council offers leadership for all the agencies and other councils involved.
"They have experts and bring all the voluntary agencies and the support needed together and have built up massive body of expertise built up over the past 10 years.
"Who will lead on this now? All parties knew what was happening, not now.
"The loss of that role is a disaster for the city."
Birmingham supplies 190 homes and Wolverhampton City Council 124.
Councillor John Lines, from Birmingham City Council, said that with "a long waiting list for homes", the city needed all its properties "for our own people".
The UK Border Agency's regional director has said they were "disappointed" at the decision.
Ms Phillimore said the UKBA knows where asylum seekers live and they were obliged to stay in the accommodation given to them.
A claim for asylum should take about six weeks to be processed and many cases were denied and then an appeal would be lodged which took time, she added.
"Some asylum seekers have been here for as long as 8-10 years and after that time you have to think of how settled they have become and moving children," Ms Phillimore said.
"The council gets funding from the government to house them but (withdrawing from the contract) could be about cutting costs.
"The council says it is putting homeless people in B&Bs so that could be costing them more."
Ms Phillimore said she feared the potential stress that could be put on local services in areas less equipped to deal with an influx of asylum seekers.
"The dangers of using the private sector more is that asylum seekers could now go anywhere and not have the support they need," she said.
"They went to places like Handsworth which is diverse and works well but perhaps if they are placed elsewhere, support may not be as available, there could be more pressure on local services and it could be more stressful.
"From my research, I found that between 2007, 2008 and 2009, Handsworth had people from 170 different countries.
"Birmingham should be proud of that."
Related Internet Links
The BBC is not responsible for the content of external sites.