West Midlands Police unit tackling football hooligans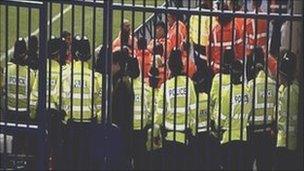 With four West Midlands football clubs in Premier League battle, BBC Inside Out has been granted exclusive access to a special unit which is tackling hooliganism.
Back in 1984, when the West Midlands had four clubs playing in the top flight of English football, the country had a fearsome worldwide reputation for football hooliganism.
Fast forward to 2010 and Aston Villa, Birmingham City, West Bromwich Albion and Wolverhampton Wanderers are once again locked in Premier League combat.
But in the intervening 26 years, what has happened to football hooliganism? Well, it certainly has not gone away.
West Midlands Police takes the issue so seriously that it has created a force football unit for a season where Villa, Blues, Albion and Wolves are taking part in 12 high-profile and high-risk local derbies.
And if you factor in the close proximity of another Premier League club, Stoke City, that is plenty to challenge the 14 specialist officers, working in the unit close to the M6 near Birmingham.
West Midlands Police said it was the first force in the country to centralise its football operations.
Its aim is to keep rival thugs apart as well as ban hooligans from attending games.
Insp Howard Lewis-Jones, who leads the unit, said: "It's the first time in, I don't know, 20 years or so, that we've had four premier division clubs.
"And with that comes very fierce rivalries which we are going to be facing over the next 12 months."
Insp Lewis-Jones' team of "spotters" mingle with fans on match days. They know who the hooligans are, and the hooligans know them.
He said: "It's about communicating with them as much as we can in terms of the fact that 'we know who you are', to make sure that those risk supporters are not comfortable enough to cause any problems at that match.
"And the way that we do that is to make sure the spotters know where they are and to bring the right sort of resources to deal with them."
So the spotters have one goal - to prevent violent disorder, much of which is planned to happen away from the football stadiums, which are often heavily policed.
BBC cameras followed the unit at the Walsall against Wolves pre-season friendly, the opening game of the season between Wolves and Stoke and the first West Midlands derby of the season when Albion met Blues at The Hawthorns.
The chief spotter at Albion is Pc Martin Portman, who in September 2008 was viciously attacked by convicted football hooligan John Lloyd after the Baggies' game at Middlesbrough.
Pc Portman said: "He came into the pub with his friends. We had words and the next minute he attacks me and knocks me unconscious.
"When I woke up my eye had been cut open, my nose was broken and my teeth were chipped."
At Teesside Crown Court in March 2009, Lloyd, 47, from Wednesbury, West Midlands, was jailed for two years.
The West Midlands region is a hot spot for hooligans. A total of 318 people from the region are currently banned from matches, more than any other area outside London.
Insp Lewis-Jones said: "Having more banning orders can show that we have a real grip on that particular risk group.
"Unfortunately we've got a number of them coming off banning orders in the next 12 months or so, so we need to carefully monitor those individuals to see if they've learned their lesson."
Related Internet Links
The BBC is not responsible for the content of external sites.