Birmingham animal rescuer awarded by charity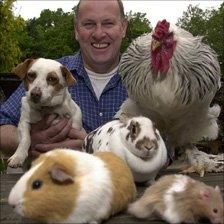 A Birmingham man who has been rescuing animals for 35 years is to receive a special award from a charity.
Ray Dedicoat, 60, from Hollywood, set up Hollytrees Animal Rescue Trust which cares for abandoned or injured stray pets and wildlife in the city.
The International Fund for Animal Welfare (IFAW) said he responded to calls 24 hours a day, every day.
IFAW director Robbie Marsland said the Animal Welfare Award was in recognition of his "amazing dedication".
His award is part of the charity's Animal Action Awards ceremony which is being held at the House of Lords.
However, Mr Dedicoat's award will be presented to him at his Birmingham centre at a later date.
Hollytrees is among the busiest rescue centres in the Midlands.
Mr Dedicoat has become an expert at catching nervous animals, particularly dogs, and was often called out to help other agencies, IFAW said.
He also has a specially-adapted net made from the netting from four football goals which is used to catch animals which have run onto motorway carriageways.
Mr Dedicoat said he was pleased that his work had been recognised by the charity.
"It's very nice to be getting an award from IFAW," he said.
"Really I just see myself as a small cog in a big wheel working with lots of others to help animals."
Related Internet Links
The BBC is not responsible for the content of external sites.