Champion Mo Farah starts Birmingham Half Marathon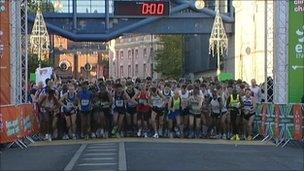 Thousands of people have taken part in the Birmingham Half Marathon, the largest number of people to do so.
Almost 15,000 people took part with Mo Far, the European Champion in the 5,000m and 10,000m, starting the event.
Seventeen bands were placed in sites along the route to provide encouragement to the runners.
Road closures led to some motorists facing delays and congestion but the road were open again by the afternoon.
Related Internet Links
The BBC is not responsible for the content of external sites.