Birmingham mother 'doused daughter's body in acid'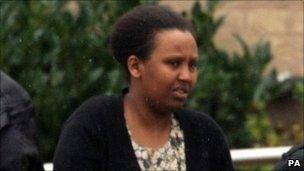 A three-year-old girl was repeatedly stabbed by her mother who then doused her body in acid, a court has heard.
Alia Jama's mother Iman Omar Yousef, 25, from Birmingham, has been declared unfit to stand trial.
A jury at Birmingham Crown Court has instead been asked to decide if she unlawfully killed her daughter, but to disregard any question of intent.
The child's body was found at a house in Milverton Road, Erdington, in February.
James Burbidge QC told the jury that on the day Alia's body was found two officers from West Midlands Police went to the address after concerns were raised by Yousef's mother.
"What they found was truly a shocking sight," he said.
Alia was found on the floor, with her body in a state of decomposition.
She had been partly covered with bin liners and the officers could smell what appeared to be acid, Mr Burbidge said.
Several stab wounds had been inflicted with what looked like a large kitchen knife, although no weapon was found, he added.
Pathologist Dr James Lucas, who carried out a post-mortem examination, said there was "extensive corrosive damage" which hampered any interpretation of her injuries, making it hard for him to ascertain a cause of death.
Experts have been unable to identify what corrosive substance was applied to Alia's body, but a litmus paper test indicated it was an acid rather than an alkaline, Dr Lucas said.
He said Alia had not swallowed any of the acidic substance and was either unconscious or dead when it was applied to her body.
The court heard that the day before Alia's death Ms Yousef, an asylum seeker of Somali origin, had been visited by social workers and by police.
Mr Burbidge said Ms Yousef was reluctant to allow social service access to Alia's medical records but took her to a GP for a check-up later that day where she was found to be healthy.
He said Ms Yousef's mother and aunt, who lived in Leicester, had had concerns for her mental health, saying she was acting strangely and talking to herself.
Her mother told police she had removed knives from her daughter's possession on two occasions, the court heard.
The case, which is being heard in Ms Yousef's absence, has been adjourned until Tuesday.
Related Internet Links
The BBC is not responsible for the content of external sites.