Birmingham's hopes of Middle Eastern investment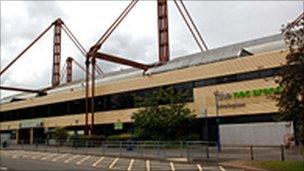 A deal with a Middle Eastern country which aims to attract more investment to Birmingham has been signed.
The city council will be offered help from Abu Dhabi with arranging meetings and introductions to attract investment.
In return, the council is offering advice to help the Abu Dhabi government set up a local government structure.
Council leader Mike Whitby said it showcased the city as an investment rival to the capital.
The Abu Dhabi government and the city council have signed a formal Memorandum of Understanding (MOU).
Mr Whitby, leader of the Tory/Lib Dem coalition council, said the partnership offered fantastic opportunities for Birmingham to gain access to some of the wealthiest and most ambitious investors in the world.
"We have been looking to develop the many commercial and cross cultural opportunities that exist for the city of Birmingham outside of the UK, and in the Emirate of Abu Dhabi we have found a partner that parallels our thinking and our vision of excellence," he said.
The MOU, effective for five years, was signed by Mr Whitby and His Excellency Rashid Mubarak Al Hajeri, chairman of Abu Dhabi's department of municipal affairs.
Last month, Mr Whitby emphasised that the city would not be selling off key resources, such as the NEC, but added there would always be a need to "continually examine all the options for maximising the NEC's performance and economic impact in the future".
He was responding to reports that assets, such as the NEC, were being sold to Middle Eastern investors.
Related Internet Links
The BBC is not responsible for the content of external sites.