PM to give councils more powers to deal with travellers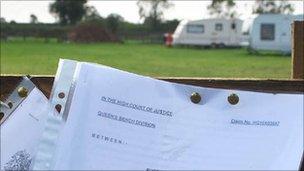 The prime minister has pledged to give councils more powers to help them deal with illegal traveller developments.
David Cameron was asked what he would do to help residents in two Warwickshire villages where travellers have illegally built on private land.
He said he would introduce the Localism Bill to give all local authorities more power over local planning decisions.
Tory MP for Rugby Mark Pawsey said the residents of Barnacle and Bulkington hoped the bill would be passed quickly.
Speaking at Prime Minister's Questions, he said: "Local residents have had to put up with illegal development on their doorstep but they are pleased with the proposals by the coalition government to give additional powers to local councils to deal with this matter."
"Will the prime minister acknowledge the wish of my constituents to see those powers made available at the earliest opportunity?" he asked.
Mr Cameron said: "As my honourable friend probably knows we will be bringing forward the Localism Bill."
He said he wanted everyone to obey the law of the land in respect of planning regulations, including travellers.
Rugby Borough Council applied to The Royal Courts of Justice on 6 October seeking a permanent injunction against a group of travellers who illegally gravelled over land they owned in Barnacle.
The group moved on to the land on 24 September and has been given until 17 December to provide sufficient evidence to gain retrospective planning permission.
Related Internet Links
The BBC is not responsible for the content of external sites.