Birmingham acid douse woman unlawfully killed daughter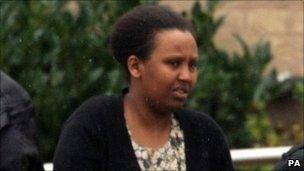 A woman who stabbed her daughter before dousing her body in acid unlawfully killed her, a jury has found.
Iman Omar Yousef, 25, who has paranoid schizophrenia, was declared unfit to stand trial over the death of three-year-old Alia Ahmed Jama.
The toddler's body was found at a house in the Erdington district of Birmingham in February.
A judge at Birmingham Crown Court ordered that Yousef should be detained in a secure psychiatric hospital.
At the end of a three-day case the jury, which was told to disregard any question of intent, found Yousef unlawfully killed Alia.
Yousef, an asylum seeker from Somalia, was considered too ill to plead and the case was heard in her absence.
Her mother and aunt, from Leicester, told the judge they had concerns for Yousef's mental health when she arrived in the UK in 2007.
They said she had been acting strangely and talking to herself.
Yousef's mother Safi Deeri said police had twice taken large knives out of her daughter's possession.
She said police had judged Yousef to be confused and irrational and she was visited by social services the day before Alia was found stabbed to death.
Judge Mr Justice Flaux heard evidence from a forensic psychiatrist before passing sentence on Thursday.
He said: "This has not been an easy case for any of us."
Alia's body was found covered in bin liners on a bedroom floor at a house in Milverton Road on 13 February.
The court heard Alia had been repeatedly stabbed and acid had corroded her bones and internal organs.
Acting Supt Tim Bacon, from West Midlands Police, told the court that Yousef had made six calls to police the day before the killing, claiming people were trying to get into her house.
But officers found no evidence anyone had been there.
She was convinced people from Leicester, where she had relatives, were "after her", the jury heard.
The court heard that Yousef went to a police station with her daughter after the officers left and demanded to be moved to a hostel.
She was given security advice and sent home after being told she was not eligible for such accommodation.
Prosecutors said the next day two officers had gone to the address after concerns were raised about Alia's wellbeing by Yousef's mother.
Prosecutor James Burbidge said: "What they found was truly a shocking sight.
"The body had then been partly covered with black and green bin liners. The officers could smell what seemed like acid."
The court heard that one of the officers collapsed on the landing after seeing the body.
Mr Burbidge said "dozens" of stab wounds had been inflicted on the toddler.
Yousef may have applied acid to her daughter's body in a bid to "dissolve her away", Mr Burbidge added.
Birmingham Safeguarding Board said it was investigating the case.
"A serious case review has been initiated into this case, and now that criminal proceedings have been completed, it will be sent to Ofsted," a spokeswoman said.
"We cannot comment any further at this stage."
Ofsted will inspect the review as it does in all cases, the board added.
Act Supt Bacon said after the case: "It has been a very demanding and very distressing investigation from the start through to the court case.
"Our thoughts are now with Alia's grandmother and her family."
He also read a statement from Yousef's mother Safir Deeri.
Her statement said: "My granddaughter Alia was a beautiful child, who was always happy and playful.
"Sadly her life came to an end in a tragic way. My daughter was a joyful person who always smiled but sadly was affected by a mental illness."
She added: "I have lost a lovely grandchild and I don't want to lose my daughter."
Related Internet Links
The BBC is not responsible for the content of external sites.