Birmingham University students stage fee protest sit-in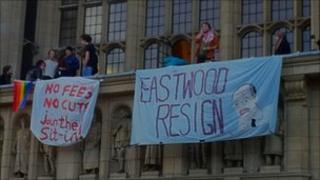 Students have occupied part of the University of Birmingham in a protest over a planned increase in tuition fees and education cuts.
Up to 40 students got inside the Aston Webb building and said they planned a 36-hour sit-in but left several hours after the protest started.
They unfurled a banner calling for the university's vice-chancellor to resign.
Similar protests took place across the UK against the fees and cuts proposals.
Student Adam O'Connell said they had had messages of support from other student protesters.
"I think direct action is the only way," he said.
"I think this is low level considering what we are up against."
Birmingham University said in a statement: "Students and staff have the right to protest peacefully but the safety of students and staff must remain our priority."
Students were protesting against plans to increase the cap on tuition fees in England to £9,000 a year and to withdraw public funding for university teaching budgets for many subjects.