Sandwiches poisoned 47 West Midlands Police officers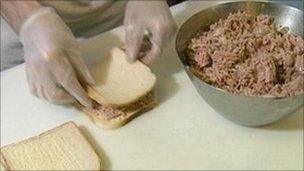 A former shop owner whose sandwiches gave 47 West Midlands Police officers food poisoning has been given a four-month suspended jail sentence.
Muriel Morris, 70, of Great Barr, Birmingham, pleaded guilty to four counts of breaking food hygiene laws at Birmingham Magistrates' Court.
Nine of the officers were taken to hospital after eating the sandwiches at a protest briefing on 4 July, 2009.
The food was from Meal Machine Cafe, Nechelles, which Morris no longer runs.
The magistrates ordered her to pay £16,482.70 in legal costs.
Morris, of Dorrington Green, was also ordered by magistrates on Monday to obey a night-time curfew for one month.
Birmingham City Council, which brought the prosecution, said one of the offences related to the sandwiches and tinned tuna being unfit for human consumption, due to the presence of Staphylococcus aureus organisms.
The three other offences related to the unhygienic conditions found at Meal Machine.
Neil Eustace, chairman of Birmingham's Public Protection Committee, said: "Environmental health officers were rightly appalled by the lack of regard for the health of customers shown by Ms Morris and moved quickly to shut the premises."
The premises were closed by a Hygiene Emergency Prohibition Notice on 13 July, 2009 and reopened a week later after health checks.
The sandwiches had been distributed to the officers at three briefings concerning an English Defence League protest and a counter protest.
The 47 officers became "seriously ill with food poisoning" and a number were treated at the scene by West Midlands Ambulance staff, the council said.
A West Midlands Police spokesman said the officers taken to hospital were treated for dehydration.
"Contingency planning measures were implemented to ensure that normal policing business could continue as the protest came to an end," he added.
Meal Machine was taken over three weeks ago by Rosy Hughes and Wendy Busst who said they had "made big steps in building a new reputation for the business", introduced new menus and increased their customer base.
The kitchen has been completely refurbished and the cafe was recently ranked highly by environmental health visitors, Ms Hughes said.
She said they were now hoping to rebuild people's confidence in the business.
"We take pride in keeping excellent hygiene standards in our kitchen and take our food serving responsibilities seriously," she added.
Related Internet Links
The BBC is not responsible for the content of external sites.