Reindeer playground surprise for Birmingham children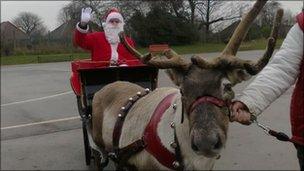 School children in Birmingham enjoyed a special surprise when two real reindeer pulling a sleigh driven by Santa turned up in their playgrounds.
Featherstone Primary School teamed up with Brook Vale and Marsh Hill primary schools to share the cost of the Christmas treat.
Featherstone's acting head, Edris Gaibee, said the children had been "absolutely thrilled".
The 'lost' Santa appeared in the playground scrutinizing a map.
The schools said they arranged the treat to help make Christmas fun and exciting for the youngsters.
Mr Gaibee said: "It was fantastic. The children absolutely loved it, they hadn't a clue what was going to happen."
He said many pupils were jumping up and down when they saw Santa while some were "telling him off" for getting so lost.
"Some children told me that they felt like Christmas had arrived," he added.
Related Internet Links
The BBC is not responsible for the content of external sites.