Lung disease former MG Rover workers get compensation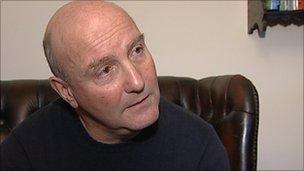 A group of 79 ex-MG Rover workers have received compensation for what experts said was the largest such outbreak of occupational lung disease in the world.
Metalworking fluids used by Powertrain Ltd, the engine building division of MG Rover, caused breathing problems for some workers at the Longbridge plant.
The illnesses were discovered in 2004 and affected about 12% of the staff.
After a seven-year legal battle 79 claimants accepted an out of court settlement worth about £1m in total.
A Health and Safety Executive (HSE) investigation from 2004 to 2006 found the cause of the alveolitis disease was mist from metalworking machines that was widely used throughout the factory in 2003 and 2004.
It found the fluids had not been maintained properly, allowing bacteria and other harmful substances to build up and cause respiratory diseases. But it decided not to prosecute the firm, which went into administration when MG Rover collapsed in April 2005.
The HSE said it thought it was the largest known outbreak of occupational asthma linked to metalworking fluids in the world.
Former worker Noel Davis said: "They put us right in the midst of the mist, that's what caused me to have this asthma. I do feel they put us in harm's way."
John Walsh of the Unite union said: "I am delighted that after a seven-year-legal battle our members have now received the compensation that has been owed to them."
Gerard Coyne, the union's regional secretary added: "From the union's perspective we believe that a good health and safety working environment is absolutely critical."
Related Internet Links
The BBC is not responsible for the content of external sites.