'Big four' win approval for 15 new Birmingham stores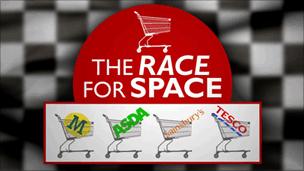 Fifteen applications for new stores from the 'big four' supermarkets have been approved in Birmingham in the past two years, BBC research has found.
The research shows nine of the applications given the go-ahead by the city council in the two years to November were for Tesco stores.
Most of the applications in Birmingham have been for permission to erect signs outside small city centre stores.
Tesco said most of its new UK store applications were for small stores.
Across the UK, at least 577 new stores were approved during that period.
The BBC contacted every UK planning authority to discover how many shops from Asda, Morrisons, Sainsbury's and Tesco received permission.
The figures were obtained by researchers examining the expansion of the companies across the UK.
Ordnance Survey figures show that in 2004, 19 supermarkets existed in Birmingham. Its figures suggest in 2010, that figure had increased to 104.
The Ordnance Survey figures show that Birmingham has seen the biggest rise in stores in the country over the past six years.
Across the whole of the West Midlands planning permission has been granted for at least 46 stores belonging to the big four in the past two years. Another nine are pending.
Dr Pamela Robinson, a lecturer in comparative industrial relations at Birmingham University, said a few years ago, the trend was for out-of-town supermarket shopping.
The trend now, she said, is for supermarkets to move back into the high streets. And that, she said, was mainly down to lifestyle changes.
"Previously, people drove to supermarkets which were not in the town," she said.
"But now, people just want to pick up a convenience meal."
There are positives and negatives to the stores springing up in the city centre, she said. "The supermarkets offer value for money and choice for the customers.
"They are very clever at listening and delivering what their customers want. As a customer, I am pleased to have such a choice."
The negative is that there is a bit of "sameness" about the high streets, she said.
"City centres and high streets can start to look the same. Where is the uniqueness?"
However, Tesco said the BBC figures were "incomplete and misleading".
"Most of our new store applications are not for large supermarkets but for small, local convenience stores, the likes of which millions of customers have relied on to get food in the bad weather," the firm said.
"Neither do the BBC's figures take into account shops that have closed."
The statement added the company had invested in the UK during the recession and created tens of thousands of jobs - many which were in the most deprived areas of the country.
Related Internet Links
The BBC is not responsible for the content of external sites.