Birmingham City Council binmen strike over pay cut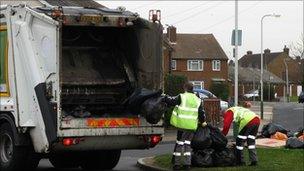 Rubbish collectors and street cleaners are striking in Birmingham in a long running dispute over pay.
The dispute centres on proposals to address a pay gap between male and female colleagues employed by Birmingham City Council.
Unite said its members had started a 24-hour walkout over changes to their contracts, which they said amounted to a £4,000 pay cut.
The council said it had consulted staff and was in talks with the unions.
In May, 4,000 Birmingham City Council staff won their case for equal pay, because the council's former bonus structure was deemed to have typically discriminated against women. It was ordered to make back payments dated from the 1990s.
Gerard Coyne, Unite's regional secretary for the West Midlands, said: "We realise the inconvenience this is causing, particularly over the Christmas period.
"We do not want to be in this situation, we want to negotiate with the council and deal with what clearly is a difficult problem."
Roger Lawrence, from the GMB union, said the proposals had left its members with no choice.
"When your boss turns around to you tomorrow and says your pay is being cut by £4,000 that's your house at risk. When you're trying to pay the mortgage and make ends meet it's a ridiculous amount to be cutting people's pay by," he said.
Councillor Alan Rudge, from the city council, said: "It's a difficult situation. I can understand it from the point of view of people suffering a reduction, but we have explained the position we are in. We are trying to work it out and we are in talks with the unions."
Related Internet Links
The BBC is not responsible for the content of external sites.