'More strikes' as Birmingham bins left full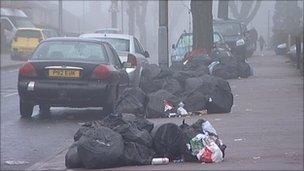 Birmingham binmen say they could take more industrial action over their pay as rubbish in some parts of the city remains uncollected for two weeks.
Refuse collectors held a one day strike on 20 December but the bad weather and the Christmas break has led to a backlog of binbags left on the streets.
The binmen are working to rule and the council has hired 200 casual staff.
The council said it accepted the extra staff were inexperienced and apologised for inconvenience caused to residents.
The dispute centres on proposals to address a pay gap between male and female colleagues employed by the council which Unite said amounted to a £4,000 pay cut.
Edwina Howard, who lives in Kingstanding, said she was outraged by the state of the streets in her area.
"It's absolutely disgusting," she said.
"I've lived around here for 30 years and it's just appalling."
But Paul Langley, from the GMB Union, said further strike dates would be discussed imminently.
"We intend to take it further," he said.
"We've got other strike dates set up in the future but that will be discussed at the next meeting amongst shop stewards."
Jeremy Shields, from the city council said the extra staff were working hard to clear the rubbish.
"They're learning the job as they go but it's difficult for them but they are doing a sterling job out there," he said.
"They collected hundreds of tonnes on Monday.
"They did even better on Tuesday and they'll keep going until they've finished all the backlog but we're sorry for the inconvenience."
In May, council staff won their case for equal pay, because the council's former bonus structure was deemed to have typically discriminated against women.
It was ordered to make back payments dated from the 1990s.
Related Internet Links
The BBC is not responsible for the content of external sites.