Birmingham binmen working over bank holiday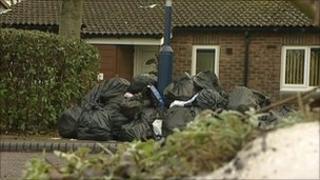 Rubbish which has not been collected for more than three weeks in some areas of Birmingham could be collected over the bank holiday, the council has said.
Councillor Timothy Huxtable said 19 additional refuse crews had been working over the holidays and will be out on Sunday and Monday.
The earlier icy conditions and industrial action among crews had led to the waste being left.
Binmen were on strike over pay on 20 December and have been working to rule.
About 500 to 600 workers walked out on Thursday over a row about two suspensions, but were back at work by Friday.
The pay dispute centres on proposals to address a pay gap between male and female colleagues employed by the council which Unite has said amounted to a £4,000 pay cut.