Casual bin collectors brought in for Birmingham backlog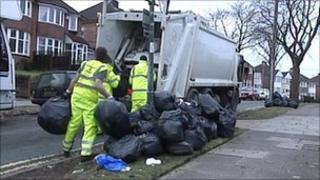 Casual refuse collectors have been brought in to help council staff clear a backlog of rubbish in Birmingham.
Some areas have not had a collection for four weeks as a result of severe winter weather, industrial action and the Christmas break.
Council binmen began working to rule on 22 December as part of a long-running dispute over pay.
The council said it was holding regular meetings with unions to address the issue.
Council refuse workers will return to work on Tuesday, but their work to rule action will continue.
About 480 council staff are involved in the dispute over pay which has arisen from the legal duty of councils across the country to ensure equality in men and women's pay rates.
Paul Langley, of the GMB union, said the changes meant staff such as refuse workers, garage staff and road sweepers would lose about £4,000 a year.
"You can't expect people to take £4,000 less and not stand and fight for their beliefs," he said.
Conservative councillor Alan Rudge said the local authority was trying to resolve the dispute and had held 24 meetings with unions since August.
He added: "The thing one has to remember is we cannot produce a solution which breaches the law - it has to be equality-proofed.
"It has to be acceptable to employment legislation that exists in this country."