Staff strike over violence by Lanchester School pupils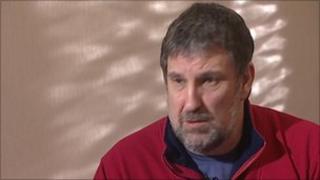 Staff at a West Midlands school for children with behavioural issues have voted to strike over the "escalating level of violence" from pupils.
The GMB union said staff at Lanchester School in Castle Bromwich had been kicked, punched and threatened.
Since September, there have been 62 restraints as a result of actual or threatened risk of injury to a pupil or staff, the spokesman added.
Solihull Council said it was disappointed at the strike.
It said it would continue to discuss the issue with the union as safety was "paramount".
The GMB said one member of staff was due to undergo a second knee operation as a result of being attacked by two pupils.
Outwardbounds instructor Martin Nash said he was currently off sick from work after being attacked by pupils.
"We've had some incidents of spitting, biting, punching," he told BBC News.
"The list really is recorded and we do look at the incidents."
Behavioural difficulties
Attacks by pupils on other classmates had also resulted in children being taken to hospital by ambulance on two occasions and police have also been called to the school at least three times, the union added.
Ofsted said the school taught pupils who have been excluded from mainstream schools because of their behavioural difficulties and said that a very small number had additional learning difficulties.
Over the past few years, there has been a significant increase in the number of pupils who have mental health difficulties, and who require medication.
It was given a satisfactory rating by Ofsted after its last inspection in November 2007.
The union said calls by its representatives and the National Union of Teachers (NUT) for the council to take action had "gone unanswered".
"The result of the ballot demonstrates the grave concerns of teachers and support at the school and I would urge Solihull Council to resolve this matter urgently by addressing the serious concerns for the safety of everyone at Lanchester," a GMB spokesman said.
Joe Morgan, GMB regional secretary said: "Teachers and support staff at Lanchester School are committed to the education and care of vulnerable young people at this special school.
"It is abhorrent that they are being forced to take strike action in order to ensure a safe environment in which children and staff can learn and work without fear of being assaulted or injured."
In a statement, the council said: "We are disappointed with the decision of some staff members to strike.
"We believe that all children deserve an education and strike action will only serve to disrupt the education of the vulnerable young people at this school.
"The safety of both staff and pupils at this school is paramount, and the school and Solihull Council will continue to discuss the issues raised by the union concerned in an appropriate manner."