Birmingham hospital trust pays out after baby's death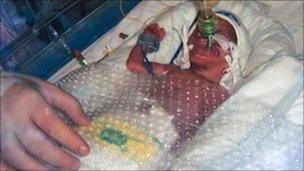 A Birmingham couple has received an out-of-court settlement following hospital failures which allegedly led to the death of their baby son.
Kerry Burton and her partner Nigel Walton, from Smiths Wood, resorted to IVF treatment after fertility problems.
Miss Burton became pregnant with twins and Rebecca and Bailey were born in October 2008 but Bailey was starved of oxygen and died two days later.
Heartlands hospital said they extended their "deepest condolences".
The couple have since separated as a result of the circumstances surrounding their son's death.
In a statement, their lawyers said following an internal investigation at the hospital, Heart of England NHS Foundation Trust has paid out an undisclosed five figure compensation settlement.
The couple's solicitor Guy Forster said: "During delivery, when a baby is in distress and is being starved of oxygen, every minute is critical.
"It appears that the doctors quickly recognised both twins' heart rates were dangerously slow and Rebecca was delivered soon after but there were then long delays before Bailey was born."
A spokeswoman for the trust said: "As soon as the hospital became aware of this very sad incident, a serious untoward incident investigation was undertaken.
"As a result of this immediate action, recommendations and an action plan were developed to address issues identified."
Miss Burton said: "It's been so difficult to move forward following the loss of Bailey, although having little Rebecca has meant we have had to stay positive for her sake.
"She is a typical toddler who is full of life. However, it's heartbreaking to look at her and think that she will never grow up alongside the little brother she should have had.
"Although nothing will ever bring my baby back, it's important that the trust learns lessons so that no other parents have to suffer as Nigel and I have."
Related Internet Links
The BBC is not responsible for the content of external sites.