Birmingham's CAB funding 'is a council matter'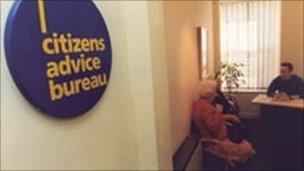 Funding for Citizens Advice Bureaux (CAB) is a matter for local authorities, the government has said.
Business minister Baroness Wilcox made the remark in the House of Lords when she was asked about the possibility of five CAB offices closing in Birmingham.
Lord Hunt of Kings Heath told her the closures were due to the city councils' funding restrictions.
The CAB said unless it can raise £50,000 per month five offices will shut on 11 February.
The offices all provide public drop-in sessions.
"Where are people to turn to for advice," Lord Hunt asked.
Lady Wilcox said the government had made it clear to local authorities that in setting budgets the voluntary sector was good value for money and should be seen as the solution, not the problem.
"We understand that Birmingham is changing the way they fund advice services to ensure greater value for money in a tougher environment," she said.
"There are actually four bureaux there and while the negotiations are going the Citizens Advice Bureaux will keep a telephone line open and we understand that there will be some transition funding to bridge the gap before recommissioning for services later this year."
Birmingham's CAB has said its "only option" is to close its open door service unless it can urgently secure other donations. It estimates 56,000 people will be affected.
A city council spokesman said the authority's Conservative/Lib Dem coalition cabinet had always made it clear that funding was not guaranteed beyond any single year, up to a maximum of three years.
"It was never our intention for agencies to become dependent upon this source of funding, or that it form their sole source of income," he said.
He added the council's contracts with current providers ended in March 2010 but was rolled over until 31 December and an interim payment had been made.
Related Internet Links
The BBC is not responsible for the content of external sites.