PFA boss Gordon Taylor's £1m wage 'not embarrassing'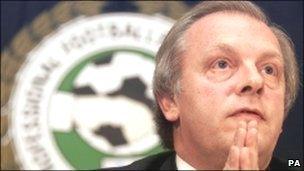 The chairman of the Professional Footballers' Association (PFA), says he is not embarrassed at being paid seven times more than the prime minister.
Former Birmingham City winger, Gordon Taylor, is reportedly paid almost £1m a year in his role.
In an interview for BBC WM Hardtalk, Mr Taylor said it was not up to him to justify his salary.
Asked if he was embarrassed about his reported salary of £984,000, he said every worker is "worth their hire".
Mr Taylor has been involved with the PFA - the trade union for English footballers - since the 1980s.
In the interview, Mr Taylor said: "I don't think it's up to me to justify.
"It's up to (the) management committee because I don't write my own salary out.
"There's a finance committee and they work out our income and expenditure and I suppose they might just have thought what are the assets of the PFA now compared to when he came in and what does he negotiate for us each year.
"I wouldn't want any of my members and neither myself to be embarrassed about it... Every labour is worth his hire, that's going to back to the Bible," he added.
"The whole object of the players' association is to try and make sure that any individual is able to capitalise on his ability, particularly in football which is a very short career."
BBC WM Hardtalk interview with Gordon Taylor is broadcast at 0900 GMT on 10 February and on the BBC iPlayer after broadcast.
Related Internet Links
The BBC is not responsible for the content of external sites.