Birmingham City Council's budget is 'social vandalism'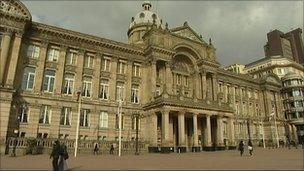 Birmingham City Council has been accused of "social and economic vandalism" after revealing plans to cut thousands of jobs.
Leader Mike Whitby said the authority would "play its role" in helping to tackle the national deficit.
He said 4,300 council posts would be cut and 3,000 more transferred into a schools co-operative, amid funding cuts from central government.
But a spokesman from Unison criticised the scale of the cuts.
Roger McKenzie, assistant general secretary of Unison, said the coalition government had "pulled the rug from beneath Birmingham society" and called the council's move "disastrous" for the city.
He said: "The cuts amount to social and economic vandalism and they threaten the economic viability and social fabric of our city."
The city council, which is run by a Conservative and Liberal Democrat coalition, has 18,993 full-time staff posts.
Mr Whitby said that the target of 4,300 posts had almost been met, as 1,807 council employees had already taken voluntary redundancy and a further 1,500 had opted to do so in the coming financial year.
The authority - the largest in the UK - has made 302 compulsory redundancies and is consulting over the remainder of the posts which must be cut.
The introduction of schools co-operatives means that council workers in supportive roles in Birmingham schools, including catering, cleaning and caretaking staff, will no longer be employed by the city council.
They will instead be paid directly by schools.
Further savings are to come from plans to privatise adult social care, increase parking fees and remodel youth services.
The details were revealed on Friday in a document by the council.
Mr Whitby said: "Undoubtedly this has been one of the most challenging budgets to plan."
But Mr McKenzie said the council had made a "political decision" to push ahead with cuts that threatened the "very viability" of public services.
Roger Jenkins, GMB regional officer for workers at the city council, said: "Whichever way you look at it the outlook for the employment and the services provided by Birmingham City Council are very bleak."
A final decision will be made in March.
Related Internet Links
The BBC is not responsible for the content of external sites.