Birmingham City Council to end allowances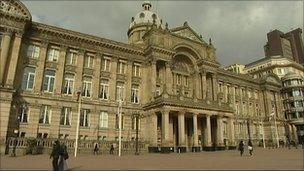 Birmingham City Council has agreed plans to change employee contracts and end payments for those working anti-social hours.
If approved next month, about 26,000 staff could be affected as the council looks to save £212m in 2011/12.
Unions have warned of industrial action after the council said on Friday that 7,000 jobs must go by 2015.
Workers could now be asked to work evenings or weekends for no extra money, Roger Jenkins from the GMB said.
The lowest paid workers would be most affected, he added.
Some 30 union officials and workers lobbied councillors ahead of the cabinet meeting on Monday.
Council leader Mike Whitby said the 2011/12 budget has been "one of the most challenging" to plan.
A range of measures were approved which would save almost £10m, the council said.
They include the end of some enhanced allowance payments, amending car allowances to reflect HM Revenue and Customs rates, free car parking only for approved car users and the introduction of "broad job groups" enabling a "more flexible workforce able to move around departments".
The measures mean the issuing of a new contract of employment to workers which some 26,000 council staff were advised about in a letter last September.
On Friday, the council gave more details about job cuts saying 4,300 posts will go and 3,000 more will be transferred into a schools co-operative, amid funding cuts from central government.
The introduction of the co-operatives means council workers in supportive roles in Birmingham schools, including catering, cleaning and caretaking staff, will no longer be employed by the city council and instead will be paid by schools.
So far 1,807 employees have already taken voluntary redundancy and a further 1,500 have opted to do so in the coming financial year.
Up to 302 compulsory redundancies have been made and the authority is consulting over the remainder of the posts which must be cut.
The council said further savings will come from plans to privatise adult social care, increase parking fees and remodel youth services.
Mr Jenkins, from the GMB, told BBC News the potential changes to contract of employment and ceasing of allowances "gave no thought whatsoever for an individual's personal circumstances".
He said they would put the plans to their members, if enforced by the council, but said he anticipated they would be rejected, leading to strike action.
"There were two things that have gone through cabinet today - one is changes to allowances, like your shift working payments... and at the same time there's a change to the actual contract of employment.
"This is saying the employer now has the right to insist you can work any hours on any day of the week.
"So you add those two together, you can have a situation where individuals (who) have been working on Monday to Friday, 9 to 5, can be told with no notice you are now working on weekends and evenings, nights whatever, for no extra pay."
Councillor Alan Rudge said "The contract brings our organisation into line with other leading employers and will make the council more resilient to future pressures, through the reduction in costs and the introduction of broad job groups - which break down an historic silo approach and give employees more flexibility to move around the organisation."
The council is the UK's largest local authority, with 18,993 full-time staff posts.
It is run by a Conservative and Liberal Democrat coalition.
Related Internet Links
The BBC is not responsible for the content of external sites.