Elderly Birmingham patient was strapped to stretcher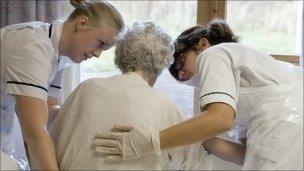 The case of a Birmingham woman left strapped to a stretcher and soaked with urine has been used to highlight NHS failings.
The Health Service Ombudsman has said the NHS is failing to treat elderly patients in England with care, dignity and respect.
It came to the conclusion after reviewing the case of the 88-year-old, along with nine others.
Heartlands Hospital has apologised after hearing of the experience.
The elderly patient had been taken on a journey to a Tyneside care home after a long stay at the hospital.
She had previously been described as independent and dignified and had managed to live at home until she was 88.
The woman arrived at the care home strapped to the stretcher, soaked with urine and dressed in clothing that did not belong to her which was held up by paper clips.
The Heart of England NHS Trust, which looks after Heartlands Hospital in Bordesley Green, said an investigation had been held which had found some important issues that had not gone well.
"We held a meeting to learn from the discharge process even before the complaint was received as we recognised that there were important difficulties which included [the patient's] unfortunately protracted stay in hospital owing to difficulty finding a suitable care home," a statement said.
The report is based on 10 examples of patient care, but the ombudsman said they were not isolated examples.
Related Internet Links
The BBC is not responsible for the content of external sites.