Dispatches Islamic school to complain to Ofcom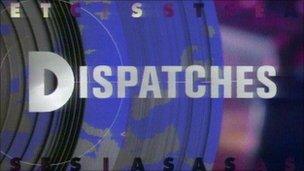 An Islamic school in Birmingham says it is drafting a complaint to Ofcom in light of a Channel 4 Dispatches show.
Lessons in Hatred and Violence, aired on Monday evening, showed footage of a preacher at Darul Uloom School displaying extreme views.
Head teacher Mujahid Aziz said the school had been misrepresented.
Dispatches said it stood by its investigation and that "numerous" adults had been filmed teaching contempt for other religions.
Mr Aziz said action had been taken over some of the incidents in the episode before he knew they had been recorded.
The programme captured a class leader making offensive remarks about Hindus.
Mr Aziz said the comments made in the class were "completely unacceptable".
"We accepted that before we knew the recordings were taking place," he said.
He added the person making the comments, who had been a senior pupil, had been expelled.
"We gave him several warnings. He had certain views that were contrary to our ethos," he said.
The programme had completely misrepresented the school's teachings, Mr Aziz said.
Out of two years of teachings, the programme makers had taken a few incidents and shown them again and again, he said.
"It's a clear misrepresentation of what we actually do," Mr Aziz claimed.
He added the school had eventually found the recording devices and taken them to the police.
"Despite them containing extensive footage of our school we called police immediately.
"We gave it to them. We have got nothing to hide."
Hate messages have been left on the school's answer phone, he said, even before the programme was broadcast.
"The students themselves are feeling in the spotlight. They feel victimised.
"The media seems to be always on us."
The school took a decision to close for half-term four days early in light of the programme.
A Dispatches spokesman said programme makers believe the comments made in the film speak for themselves.
"Our investigation exposed numerous adults in positions of authority at the school on many different occasions teaching pupils as young as 11 years of age contempt for other religions and wider society.
"These include speakers, teachers, senior teachers and visiting 'Maulanas'. The school continues to fail to respond to address these issues," the spokesman said.
"The programme clearly raises concerns about those in positions of responsibility in these schools - not the pupils who attend. It includes a fair summary of the school's response to the allegations.
"We will robustly defend any fairness complaint against the programme."
Related Internet Links
The BBC is not responsible for the content of external sites.