Solihull Council says 'not enough money for potholes'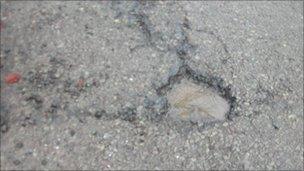 Solihull Council says it does not have enough money to address long-term road problems, BBC research shows.
In 2009-10, it spent £3.1m after budgeting £3m and it budgeted £3.3m for 2010-11 but current spend is not yet known, the council said.
"Like most authorities, we do not currently have the funding to address the investment required," they added.
All councils in England have been responding to a Freedom of Information request by the BBC.
On 23 February the government announced it was giving local authorities in England a share of an extra £100m to repair potholes caused by last year's freezing conditions.
But councils have raised concerns that the overall road maintenance budget is being cut by more than £160m over the next four years.
David Sparks, from the Local Government Agency (LGA), has told BBC News that under-funding over many years means parts of the road network will end up like "craters on the moon".
"We just have to spend the money - it's not a question of finance but of sheer necessity.
"We will literally get to a state like Cuba, like Africa.
"There will no longer be potholes but big holes in the roads like craters on the moon."
Wolverhampton City Council said compensation it has paid out relating to highways maintenance and potholes has gone up from £1,200 in 2008-9 to £16,416 in 2010-11.
Labour councillor Peter Bilson, cabinet member for transport in the city, said the extreme weather conditions badly affected roads.
The council is now having to spend more money resurfacing bus lanes on a major route, Willenhall Road, between Walsall and Wolverhampton, after the the tarmac used turned out to be less resilient to the freezing temperatures.
In Birmingham, the city council said its total proposed highway maintenance budget for 2011-12 is £56.5m, subject to approval later this month.
In 2009-10, it spent £48.7m and figures for 2010-11 were not available, a spokesman said.
Compensation payout for issues relating to potholes went down from £140,580 in 2008, to £37,080 in 2009 but rose again to £74,800 in 2010, the council said.
Councillor Derek Rowley, Sandwell Council Labour cabinet member for safer neighbourhoods, which covers highway maintenance, said he was waiting for confirmation of exactly how much it would get from the council.
Sandwell Council told BBC News that it believed its road maintenance funding plans would be "sufficient to maintain safety and required availability of the local highway network".
It spent £12.4m in 2009-10 after budgeting £12.5m.
In 2010-11 it had budgeted £13.7m.
He said: "We spent roughly £750,000 on potholes last year and as a rough figure for this year, it will probably be the same again.
"We've surveyed the borough and in rough terms that's what we're looking at."
Related Internet Links
The BBC is not responsible for the content of external sites.