Accidental overdose at Good Hope Hospital led to death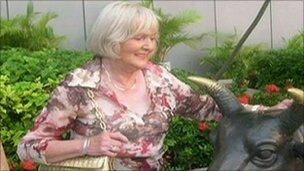 A grandmother died on Mother's Day after an accidental overdose at Good Hope Hospital in Sutton Coldfield, an inquest has heard.
Arsula Sansom, 80, of Streetly, Sutton Coldfield, had pneumonia.
The nurse gave her potassium chloride to help her breathe, but it was 10 times the correct rate, which led to a fatal heart attack on 14 March, 2010.
A verdict of accidental death was recorded but the coroner said neglect had also been a contributing factor.
The hospital's policy of ensuring two medical staff are present when administering drugs had not been followed because one of the nursing staff had been distracted by another patient, the inquest was told.
Mrs Sansom is the fifth patient to die in four years at the Heart of England Trust following a drugs mistake.
Coroner Aidan Cotter said he would write to the Care Quality Commission health watchdog about Mrs Sansom's case which he said should be seen in a wider context of similar errors made across the NHS.
Good Hope Hospital said after the inquest on Tuesday: "This incident took place amidst an established programme of change across the hospital, targeting medicines management in particular.
"The actions taken in response to the death of Mrs Sansom have been incorporated into this wider programme."
Related Internet Links
The BBC is not responsible for the content of external sites.