Swift blood treatment 'could save 10,000 lives a year'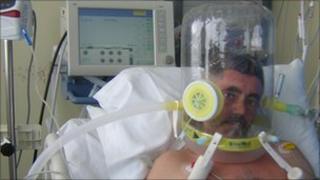 Survival rates for patients with blood poisoning almost double if the patient is treated within an hour of being diagnosed, a doctor has claimed.
Trials in Birmingham found that treating septicaemia with oxygen, antibiotics and fluids was twice as effective when administered promptly.
Dr Ron Daniels said this had saved 70 lives at Good Hope Hospital in 2010.
He said one in seven people nationally were correctly treated and his method could help save 10,000 lives a year.
'Huge number'
Dr Daniels' team analysed 567 cases of which 220 patients were given a six-part treatment, including antibiotics, fluids, oxygen, urine monitoring, blood cultures and haemoglobin checks.
Of these 220 patients 44 died, 20% of the group.
He compared that group's survival rate with 347 patients in a control group who were unable to receive the full treatment in time. Of these 153 people died, 44% of the group.
About 37,000 patients are thought to die from blood poisoning in the UK each year, which is more than from breast cancer, bowel cancer and HIV combined.
Dr Daniels said: "It's a huge number of people. We have shown in our observational data from Good Hope that if we can get things right, we can nearly halve a patient's chance of dying.
"We could potentially be saving 10,000 people a year in the UK and in our one hospital, we estimate that we saved 70 patients within one year."
Mark Sollis from Tamworth was admitted with Legionnaire's disease and blood poisoning, spending nine-and-a-half weeks in intensive care.
Funding stopped
He said: "I have learnt since that it was pretty close and if I hadn't been where I was, then things would have been different."
The National Institute for Healthcare Research paid for a full-time nurse to oversee septicaemia treatment for 12 months.
The study was supported by the trust board and more than 800 staff underwent training. Funding for the nurse has since stopped.
Dr Daniels, Good Hope's critical care consultant and chair of the UK Surviving Sepsis Campaign group, said septicaemia accounted for half of all intensive care cases.
He said swift treatment could increase the speed of recovery and that freeing up an intensive care bed for one month would pay for a dedicated sepsis nurse.