Luxury lifestyle cashier told to repay stolen cash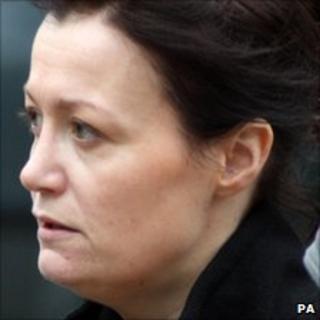 A cashier from the West Midlands who stole £1.7m from her employers, funding a luxurious lifestyle, has been ordered to repay some of the money.
Louise Martini, 35, of Solihull, bought jewellery and shares in a racehorse with the stolen funds.
She was jailed for seven years in October 2010 after pleading guilty to a charge of theft and money laundering.
She has been ordered to repay £239,693 - which is what financial investigators said she had left.
Judge Jamie Tabor QC at Gloucester Crown Court made the confiscation order after hearing she owned a £220,000 home, a £17,000 Range Rover, some artwork by Mackenzie Thorpe valued at £1,200, a Chanel ring and watch valued at £1,400 and £93 in bank accounts.
Las Vegas trips
Martini was told if she did not repay the money to the law firm where she worked she would face a longer prison sentence.
She had been earning £24,000 a year at the time of her arrest and had been considered a valued member of staff at the Solihull based Williamson and Soden.
Between April 2002 and her dismissal in February 2009, Martini spent £11,000 on Chanel jewellery, more than £10,000 on Cartier jewellery and £9,500 at online store Net-a-Porter.
She also bought five cars, including a £56,000 Range Rover and went on trips to Las Vegas, Venice and Lake Como in Italy.
She bought the Crown Inn in Peopleton, Worcestershire, and the leasehold to The Bull's Head Pub in Inkberrow.
The court heard she would deceive partners at the firm about the cheques she gave them for signing