New code over CCTV use after Birmingham 'spy' cameras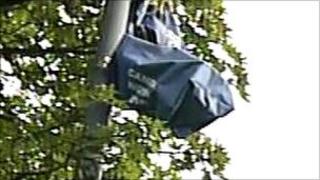 A code of conduct surrounding the use of CCTV systems by councils and police is being considered by the government.
The length of time data from ANPR cameras can be kept may also be in the new code, the Home Office said.
It follows an apology by West Midlands Police last year over the way about 200 so-called "spy cameras" were erected in largely Muslim areas of Birmingham.
The cameras, some hidden, were paid for with £3m of government cash earmarked for tackling terrorism.
ANPR cameras helped track the killers of Pc Sharon Beshenivsky who was killed in a bungled raid in Bradford in November 2005.
Crime prevention minister James Brokenshire said: "CCTV and ANPR systems play a vital role in the prevention and detection of crime.
"However it is important they are used in a way that does not invade law-abiding people's privacy or undermine the public's confidence in them.
"That's why we are establishing this code and that's why we are asking the public what they think should be in it."
A new commissioner will be appointed to monitor the use of the code.
A 12-week consultation was launched by the Home Office on Monday.
Any individual wishing to know more about an overt surveillance camera should be able to obtain that information easily and readily, whilst the personal data itself is appropriately safeguarded, the Home Office said.
'Ensuring transparency'
"Anyone considering the use of such technology should first undertake a thorough assessment of the purpose, likely value, and wider impact of such a course of action and determine in the light of that whether or not to proceed," a spokesman said.
"Good practice suggests that an important way of commanding public confidence is by ensuring transparency of process in the ownership, purpose and use of surveillance cameras."
In December, West Midlands Police said the 200 cameras installed in Washwood Heath and Sparkbrook areas of the Birmingham would be removed.
Residents were angry at a lack of consultation over the £3m Project Champion and an independent report was highly critical of the scheme and the police.
The police made assurances that none of them had ever been switched on.