Birmingham City Council agrees budget cut of £212m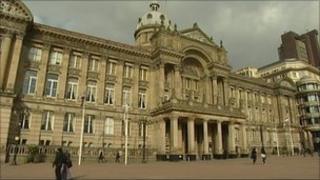 Birmingham City Council has agreed to save £212m in the next financial year leading to the loss of 2,450 jobs.
Protesters picketed the council's meeting on Tuesday as the Conservative -Lib Dem coalition authority met to set the budget.
The council has said although there will be a reduced spend across the public sector, £3.5bn will still be spent on public services.
Up to 1,500 people are thought to have taken voluntary redundancy.
The city council has 18,993 full-time staff posts.
Council leader Mike Whitby said the council needs to save £300,000 a day for three years.
He has said the 2011/12 budget has been "one of the most challenging" to plan.
Protesters removed
Unions have described it as "social vandalism".
The council has agreed to make 30% savings in back office functions along with a cut of £51m from adults and communities budget and some social care will be transferred to the private sector.
The transport budget will be cut by £16.8m and children's services by £21.5m.
A freeze on council tax was also agreed.
Deputy leader Paul Tilsley, a Liberal councillor, said libraries and leisure facilities were not going to be closed.
Some protesters inside the meeting were later removed.
Labour councillor Sir Albert Bore said the job cuts would "lead to families in Birmingham losing their breadwinner".