Solihull council sets budget cut of £15m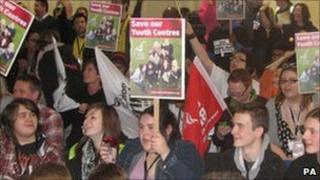 Councillors have unanimously voted to cut Solihull borough council's budget by £15m to £148.1m for 2011-12.
The full council also agreed to freeze council tax rates at the current level, which means a band D property would be rated £1,173.72 in the next year.
The resources and efficiency department will make the biggest cuts of £5.3m followed by the children's and young people's service with £4.1m cuts.
Further council cuts of £11.8m are proposed for 2012-13.
The Lib Dem-Labour-run council said it had no widescale redundancies planned for this year, but that did not rule out some job losses to make existing roles more efficient.
Jolyon Jones, Unison union branch secretary, said: 'We will be watching the implementation of cuts and savings closely. The council have said their priority is to protect frontline services, we will hold them to this commitment.
"We expect the next budget year to be more difficult and more difficult choices will need to be made."
The council's "cross cutting and lean" process, which reviews council practices and suggests potential savings, is due to make £2m of savings next year.
Cuts of £2.5m are also due to be made from the environment department. Most of the savings would be made by the authority's decision in October to withdraw from the development of a joint council waste incinerator project in Coventry, it said.