Phoenix Four enter fresh MG Rover trust fund talks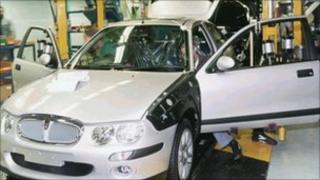 Former MG Rover workers have met representatives of the Phoenix Four to discuss money pledged to staff after the firm's collapse in 2005.
Four executives of Phoenix Venture Holdings (PVH) bought MG Rover in Birmingham, for £10 in 2000 and paid themselves £40m in pay and pensions.
When MG Rover collapsed they were criticised and pledged to set up a trust fund for the 6,000 former staff.
PVH said is it in a legal dispute with HBOS over the funds.
When the offer was first made to workers the Phoenix Four of John Towers, Nick Stephenson, Peter Beale and John Edwards, did not attach any conditions to paying staff with the trust fund money.
'Matter is ongoing'
In a statement on Thursday after the meeting, PVH said that the money was never transferred due to a claim by HBOS.
It said that the directors "have worked hard against extraordinary odds" since 2005, and had personally invested almost £2m and secured over £12.5m for the Longbridge Trust for former MG Rover employees.
It said: "A claim by HBOS - notified to PVH as late as February 2010 - over the entirety of the money available halted the transfer of funds to the trust.
"The directors have made repeated but unsuccessful requests from the bank for information allowing them to better understand the claim.
"To date the bank has provided no information and the matter is ongoing.
"Legal processes to recover money which the directors believe should be paid into the trust fund are under way."
Northfield Labour MP Richard Burden wrote to Mr Towers in May 2010 enquiring when the workers would get the money pledged to workers.
In his reply Mr Towers said there was about £12.5m in a trust fund with HBOS that it was keen to pay the workers, but the bank had since made its own claims against the money, in relation to losses it said it incurred when MG Rover collapsed.
Professor David Bailey, from Coventry University Business School, said: "When MG Rover went into administration the workers were left on the dole, they got statutory redundancy but they got very little support and the Phoenix Four were heavily criticised.
"They made an unqualified commitment to the workers, although they never said how much that would be.
"It's been six years but there's very little anyone can do to force them to pay out."