Man sectioned after West Bromwich woman's death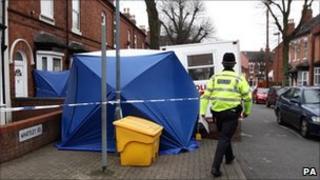 A 20-year-old man arrested on suspicion of murdering a woman found dead in a house in Birmingham has been sectioned under the Mental Health Act.
On Wednesday police discovered the body of missing 18-year-old Nicole Cartmell, from West Bromwich, who gave birth to a boy in January.
Officers went to the house in Whateley Road, Handsworth, to speak to occupants about the use of her bank cards.
Two men, aged 18 and 20, were arrested over the death. The former was bailed.
Ms Cartmell went missing on Valentine's Day.
A post-mortem examination has failed to confirm the cause of death and further tests were being carried out.