Birmingham binmen accept council offer in pay and contract dispute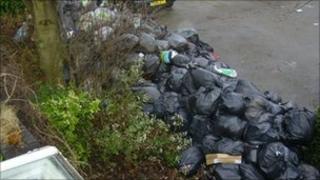 Binmen in Birmingham have voted to accept the latest offer from the city council resolving a lengthy contract and pay dispute, the GMB union said.
Discussions about the deal had been taking place on Thursday in the dispute which started about nine months ago.
Binmen held a strike on 20 December and had been working to rule for several weeks over a pay row which unions said would see them lose £4,000 per year.
The council said it was "delighted" issue had been resolved.
'Difficult discussions'
Last month, 95% of the 500 workers rejected the latest council offer.
About 480 council staff are involved in the dispute which arose from the legal duty of councils across the country to ensure equality in pay rates for men and women.
But, it is thought many could not afford to go on strike again and voted to accept a new agreement from the council.
About two thirds of the workers voted to accept the offer, the GMB said.
One worker told BBC News as he left the meeting that he was glad to "get back to work to earn some money" but another said he felt they had been "done in" by accepting the deal.
Last week the council set its budget and confirmed that overall, 2,500 jobs will go over the next year - 9.6% of the workforce - as the authority makes cuts of £212m.
The cuts include 1,500 voluntary redundancies and 302 compulsory ones.
Matt Kelly, assistant director of fleet and waste management at the council, said the new agreement with the binmen came after some "very long and difficult discussions".
Rubbish backlog
"It ties up some of the operational issues, some of the agreements around conditions and brings refuse collection, or binmen, in line with other council employees," he said.
"But really what it does do is [bring about] an affordable resolution which does not put the city council at any equal pay risk which has been the issue throughout the dispute."
Council officials will meet unions on Thursday to ratify the deal, he said.
There was growing anger over a rubbish backlog in the city in the new year after the bad weather, Christmas holiday disruption and industrial action by the binmen.
Some residents said they had no collections for up to a month.