Sandwell park multi-million pound restoration continues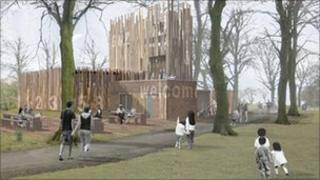 A Black Country Victorian park is being restored to its former glory in a £6.3m project.
Dartmouth Park in West Bromwich was originally laid out in 1876.
The latest stage of work has seen the restoration of the avenue of trees which runs through the park and a replica of the original 1883 drinking fountain.
The scheme is being funded by the Heritage Lottery Fund, Big Lottery and Sandwell Council.
Community pavilion
In 1923, the Prince of Wales presented the freehold of Dartmouth Park to the people of West Bromwich.
As part of the restoration project, work is already under way on a new £900,000 community pavilion to replace a building that was demolished in the early 1980s when it fell into disrepair.
Sandwell Council says it hopes work on the new pavilion will be completed by September 2011.
Now the Grade II listed park's main thoroughfare, the Avenue, has been reopened to the public after improvement work and there is also new lighting around the War Memorial.
The council's cabinet member for youth, culture and leisure Councillor Ann Shackleton said: "This is a momentous event in the history of the park, which will once again be one of the best parks in the region.
"Along with other major regeneration projects, it is giving a major boost to West Bromwich and Sandwell," she added.
Other schemes planned for the park include a skateboard park, performance area and improvements to the children's playground.
The project is due to be finished by late 2012.