Japan rescue team from the West Midlands returns to UK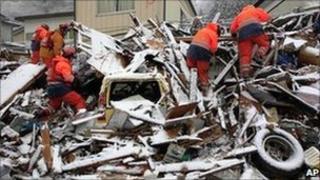 Firefighters from the West Midlands are returning home from Japan after concluding there was an "extremely low" chance of finding survivors.
A spokesman for West Midlands Fire Service said snow and falling temperatures hampered rescue efforts.
He said they found no survivors in the devastation caused by the tsunami and earthquake on 11 March.
The United Kingdom International Search and Rescue (UKISAR) team was deployed seven days ago.
'No survivors'
The group of 12 was part of a larger team of 63 firefighters from Cheshire, Greater Manchester, Hampshire, Kent, Lancashire, Lincolnshire, West Sussex, and Mid and West Wales Fire and Rescue Services.
The team also took out two search dogs and 11 tonnes of equipment.
The combined US and UK search teams concluded their search on Friday.
The spokesman said no survivors were found in the towns of Ofunato and Kamaishi by the crews despite an extensive search.
He added the team planned to travel 200km north on Friday to the airport in Misawa where they had initially landed.
They are due to arrive home on Saturday afternoon.
So far the earthquake and tsunami are known to have killed more than 7,300 people, while 11,000 more remain missing.